Krista Lee Hanson (RYT-200)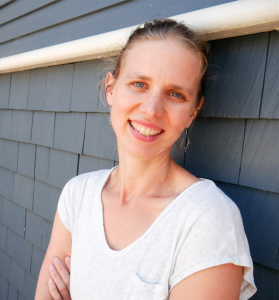 I came to yoga practice 15 years ago, but it was the birth of my son more than six years ago that led me to immerse myself in yoga, particularly yoga as a holistic healing art.  Yoga has helped me ground, grow, and become more flexible mentally and physically, and I feel lucky to be able to share these practices with my students.  My yoga classes aim to help students come to know themselves better, using primarily asana (poses or postures), while also regularly incorporating breath, relaxation, and meditation techniques.
I have taught yoga to all ages and abilities, including open level yoga classes, prenatal yoga, private yoga therapy, yoga for children with disabilities, yoga for activists, yoga for beginners, and yoga for athletes.  I believe that all people can do yoga, and I try to personalize my teaching as much as class size allows.  My family is affected by multiple disabilities, so I am especially committed and interested in making my classes accessible to people with all kinds of abilities or disabilities.
My main training as a teacher and yoga therapist was at Boundless yoga in Washington DC — I did a year-long intensive teacher training program and a 150-hour yoga therapy training.  My main teachers are Kim Weeks, Liana Brooks-Rubin, and James Foulkes.  The three of them bring together many decades of study in the alignment tradition of Iyengar yoga and the Scaravelli yoga tradition.  These two schools of yoga focus on mindful movement and holding of poses, emphasizing the internal experience of the body over any "perfect" pose.   I've also studied with teachers who practice Ayurvedic yoga, Ashtanga, and Kundalini yoga.
When I teach, I weave together the wisdom in these different lineages – my hope is to teach my students to find expansiveness as we play with boundaries and alignment.  We also pay attention to the breath, using it as a guide through the class.  My classes tend to move slower than a flow class, sometimes backing away from physical intensity so there is more space for mindfulness and releasing of tension from the physical and mental body.  I believe we all have the right to live fully and comfortably in our bodies, and my teaching aims to help students on their path to that full embodiment.
Before I was a yoga teacher I was a full-time organizer and social justice activist, and I am still involved in justice and solidarity work.  I am proud to have been involved in organizing campaigns for workers' rights, immigrant rights, international solidarity, and disability justice.  Though I am originally from the Northwest, I've lived most of my adult life in Latin America, then New York, and most recently Washington DC.  I am thrilled to be back in the northwest with my son and partner — I love the huge trees, the imposing mountains, the big bodies of water, and the smell of the pacific northwest rain.
And finally, about the pictures on the blog.  The nature pictures are all my own photographs, and they may be self-explanatory.  I draw much of my spiritual sustenance and inspiration from nature.  I went back and forth about whether or not to include pictures of me "doing yoga," since I feel so strongly that there is no perfect pose, and that anyone with any kind of body can do yoga.  And yet… in my body I love playing with balance.  I especially love doing headstands.  And especially outdoors.  And if nothing else, yoga should help us discover joy in our bodies.  So I compromised.  Three headstand shots, none of them perfect.